6 Quirky Mugs to Enjoy Your Next Brew
For many of us, one of the best things that you can do is sit down with a nice mug of whatever your favourite beverage is. 
Tea, green tea, coffee, whatever. Whether you make it 'Irish' or you just enjoy a straight beverage in the morning, we all have our own choice of drink to enjoy.
More importantly, we also all have our own awesome little mug that we like to drink out of. Finding the right mug, though, can be a lot harder than it has to be. 
If you are on the lookout for a quality mug that you can use and enjoy on a daily basis, then, what should you be looking for?
The first thing that you should be doing is looking for a mug that you feel represents who you are as a person. 
The mug should be a fine representation of who you are and how you like to spend your time. 
It should be a fine example of the things in life that you love, designed and shown off in an abstract and creative way.
From being a skateboarder to a soccer fan, you can find all manner of awesome and quirky mugs to look at. 
The problem that you often have is hunting down a style of mug that you like the look, feel, and design of. 
If you would like to bring an end to the search, though, we have some good ideas for you to take a look at down below. 
These should help you to get plenty inspired for a nice, quirky mug that is going to make you laugh and smile in equal measure!
#1 Are you a superhero (to someone)?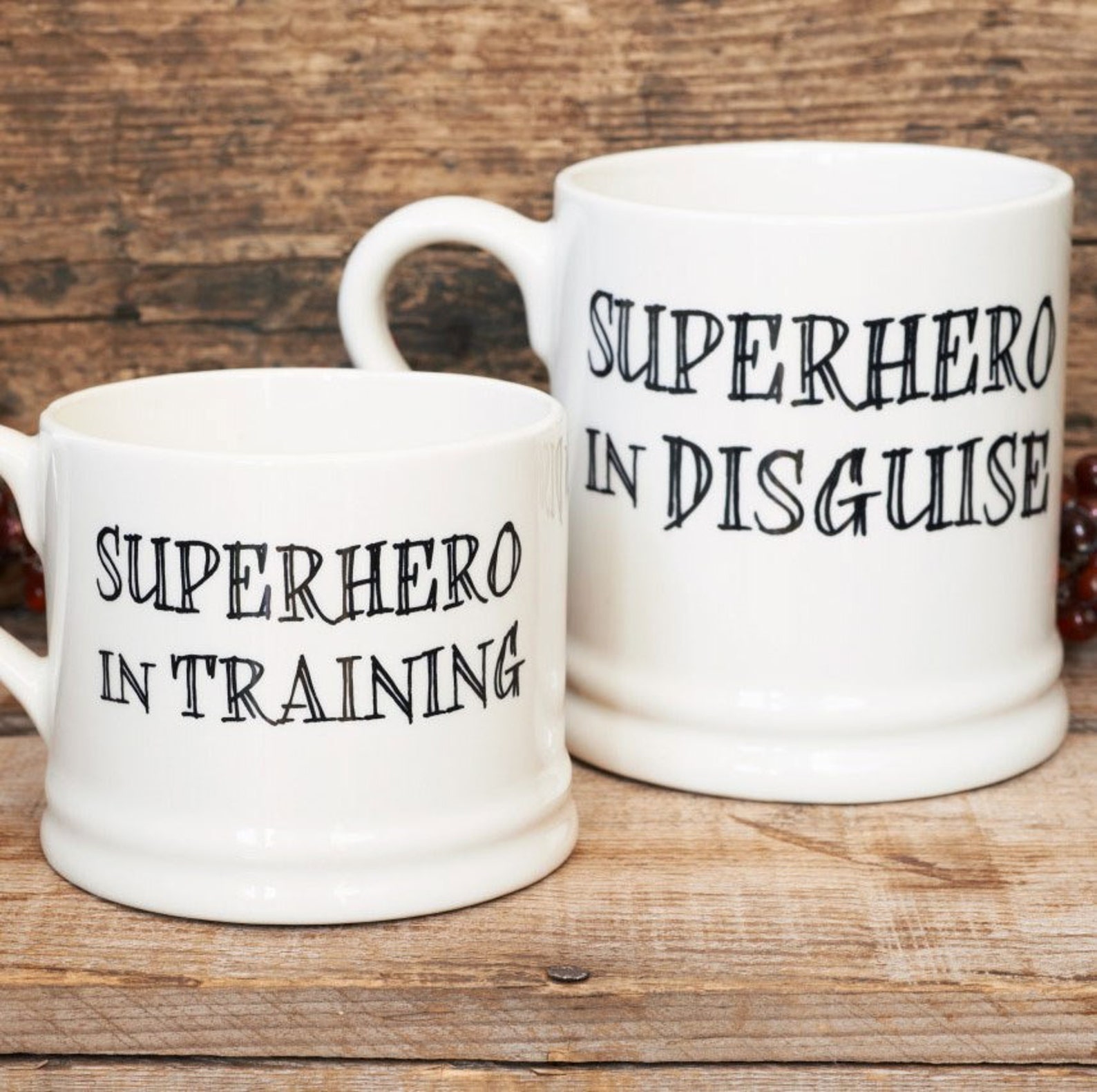 Of course, while you might not know it, you are a superhero to someone. 
It could be your children, your family – it could even be someone in work. 
Whoever it is, you should start to show off your supernatural credentials with the help of this adorable superhero mug.
Make it easier on yourself to start showing the world what you are all about with the help of this quirky superhero mug. It's definitely for those who are being heralded as a saviour or a hero, but just about anyone can enjoy portraying themselves as this weeks hero!
#2 Do you love pandas?
For those of you with a passion for our black and white panda friends, you might wish to take a look at this awesome panda mug. 
It's a cute and charming little mug and one that you could easily use in just about any setting or location without having to worry about upsetting or offending anyone. 
The universal design makes it hard to get mixed up with anyone else in the office, too!
For that reason, we recommend that you get this if you are all about giving pandas the love and praise that they so clearly deserve.
#3 What about cartoon animals?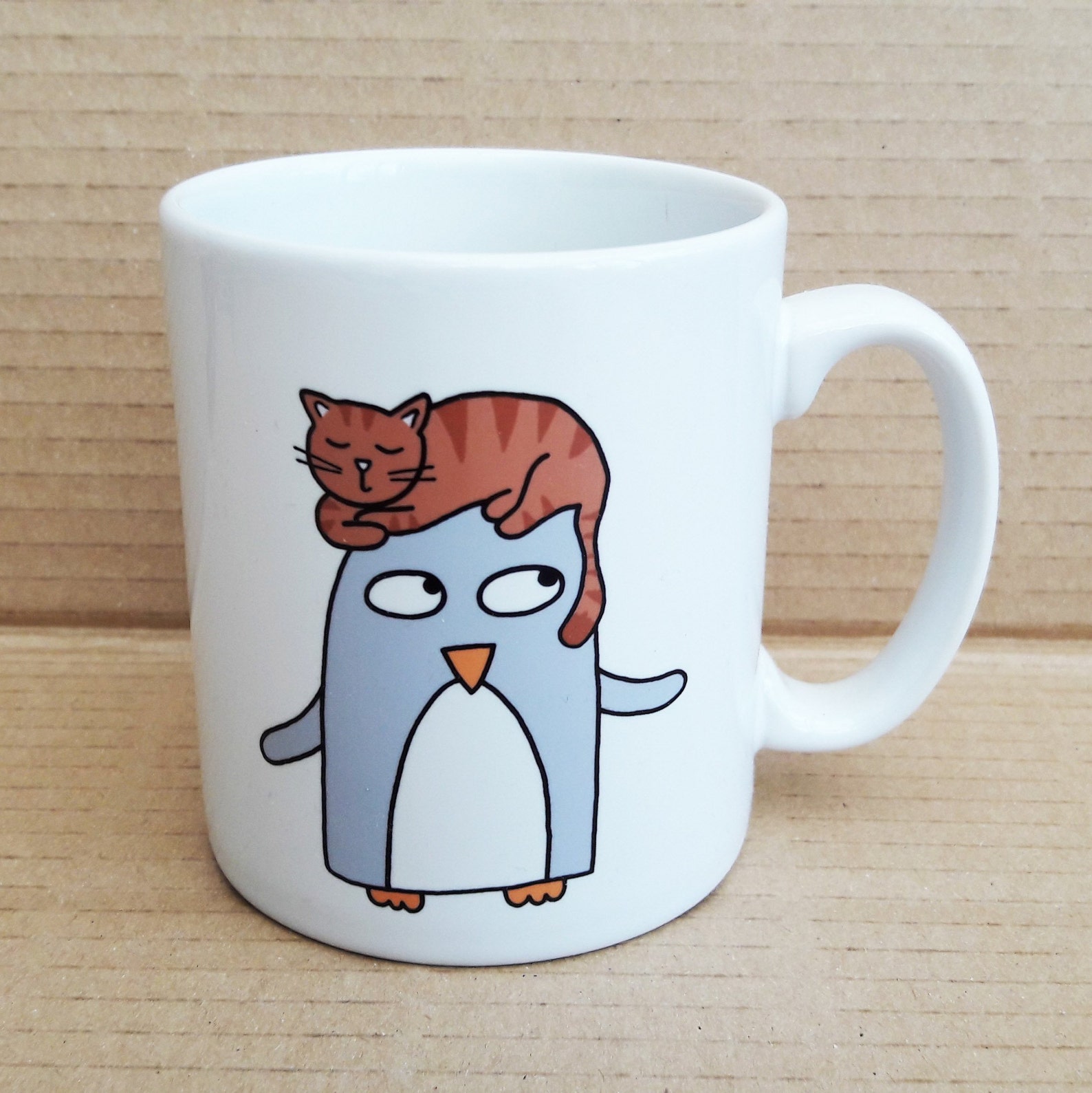 Some of us, though, just have a wider love for all animals. If that is the case, then you should absolutely look to pick one of these cartoon animal mug designs. 
Showing a cute little kitty cat with a penguin, it's the kind of adorable mug that should instantly mark you out as someone who has a lasting love and respect for animals.
Pick this up, and you should have no problem at all in showing the world just how much our furry friends mean to you. 
These quirky mugs are all about showcasing the things that make us who we are, so animal lovers should love this mug!
#4 Good morning, sunshine!
Some of us, though, just love waking up in the morning and seeing a whole new sunrise. 
That is why we recommend that if you are someone who likes to start your day with a smile, then you take a look at this good morning mug. 
It's a fine choice, and it is almost certainly going to give you a nice little mug to look at in the morning – reminding you of the beauty and the opportunity that exists so much in the day to come.
If you are someone who wants to get a more unique, personal mug, start here.
#5 Roses are red…
When you want to get a mug that is going to make people laugh, then show people your poetic prowess with this roses are red mug. 
You'll get more than a few colleagues reading it a few times before they realise it's all an elaborate joke!
For that reason, we recommend picking this up for anyone in your workplace who happens to be a bit too open with their poetry. 
It's a good choice, too, for anyone who just happens to keep their words to a limit. 
Great for making sure you always have a quirky mug that reminds you that for however much you love poetry, you'll also love coffee more!
#6 Pointing the finger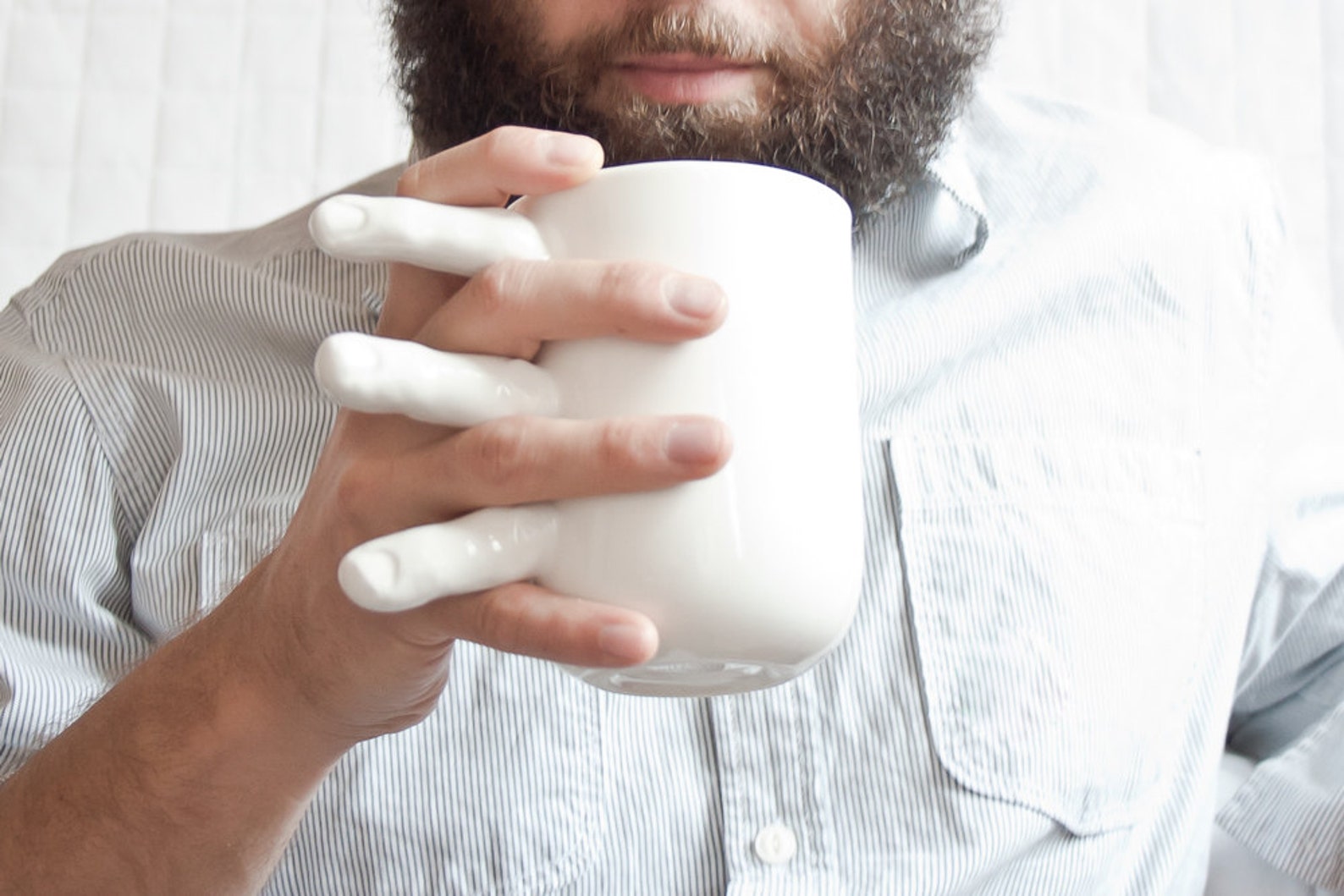 Lastly, we recommend that if you want a really quirky mug, then you go and take a look at this fingers mug. 
It's a stylish and engaging looking mug; the kind that easily adds a touch of personality and character into the room.
People will wonder why your mug appears to have protruding fingers, but it's all part of the comedy value and charm of owning a mug like this. 
And one thing is for sure – you would need to be pretty clumsy to drop this one!
Take a look at each of these quirky mugs, then, and you should have little to no problem in moving things around and getting stuff put in place accordingly. 
What are you waiting for, then? 
You no longer need to drink from a dreary all-white ceramic cup; now, you can get a quirky mug that feels well-suited to you as a person!