6 Quirky Side Tables For the Living Room
How often do you find yourself shopping for a side table? 
For many, it's the ideal way to add a touch of invention and energy into their room. 
However, the problem with finding a good standard of side tables is not really knowing where to look when you want to find one. 
With so many options to look at and to consider, you might not be sure where you should begin the search for a good side table. 
If that is the case, then these ideas below might be just what you are looking for.
With the help of these ideas, you should find it a bit easier to start building up a happy side table collection with a bit more personality than the norm. 
So, what kind of designs might we recommend if you are looking for a more personable and quirky side table to enjoy?
Why do I need a new side table?
For one, side tables are the most commonly used in a room for a lot of us. 
We might not realise it, but think of all the things that you can store on your side table. From a little book to read at night to having a place where you can rest your drinks, the side table plays a key role in keeping the place nice and tidy. 
The only problem is that most side tables are a little…dull.
When you want to make things a bit more ambitious and exciting, one of the best things that you could do is go and pick up a side table with a bit more personality and invention to it. 
This often means shopping around a fair bit to see what you can find, but you can find plenty of inspiration if you look around online.
A new side table might not seem like much, but it can totally change the tempo and feel of an entire room in a short space of time. 
They often help to bring the whole room together, and can more often than not work as a solid solution to help add a bit more charisma into the room.
So, if you are not sure where to look when you are trying to freshen up a room, consider some of the following quirky side tables. 
They might not all be for you, but at least one should fit your style!
#1 A Modern Nightstand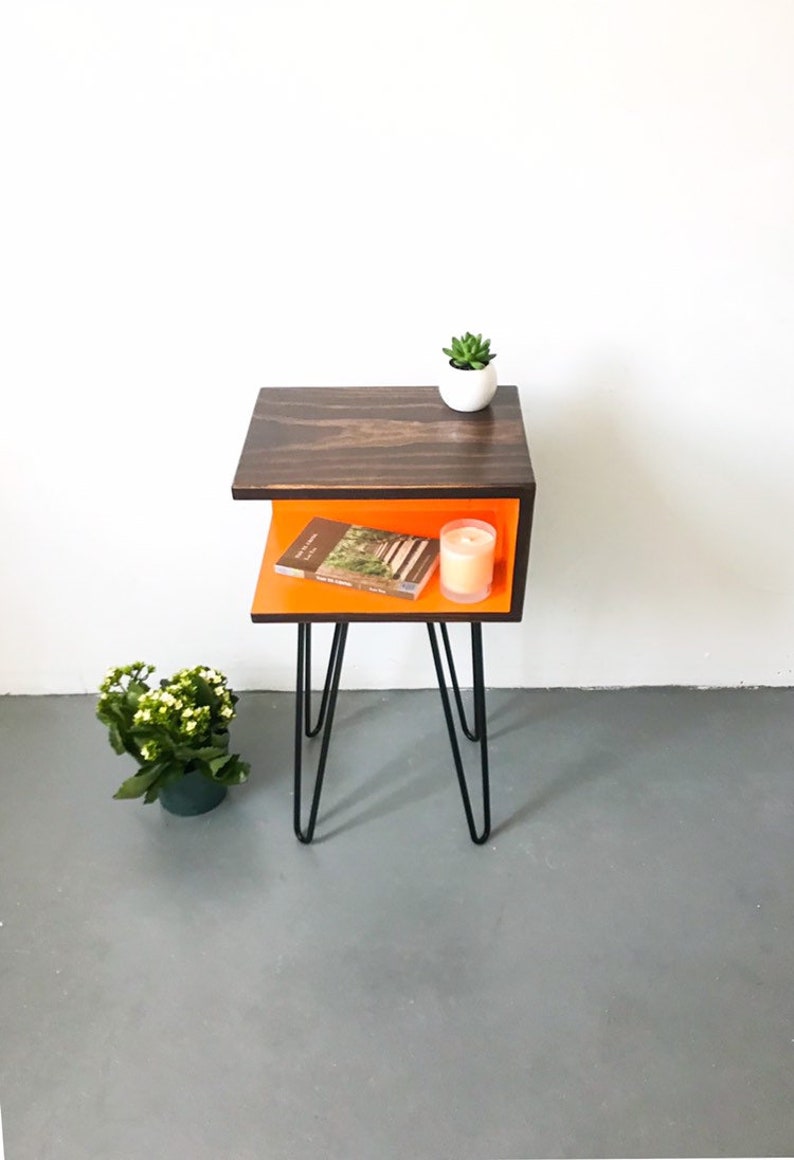 One good place to start when looking at quirky side tables is to take a look at this interesting little orange nightstand. 
While a pedant could argue that it's not technically a side table, it does the exact same job and helps to add a touch of personality and charisma to the entirety of the room.
So, you can use this in a room that needs a bit of brightness, or already has a nice warm theme to the room. It should look good, and will add a touch of modernity to the room that was previously missing.
#2 Rustic and dark
Of course, you might want something a bit more antiquated in style. 
With the help of this cool little industrial side table, you can change up the whole look and feel of the entire room.
It should help to give you a new and interesting looking side table, where it uses the realistic shape of the wood and the metal to help add a sense of realism to the room.
When you want to include something because it has a genuine sense of energy and charisma to it rather than some hyper-polished finish, start here.
#3 Nice 'n Thin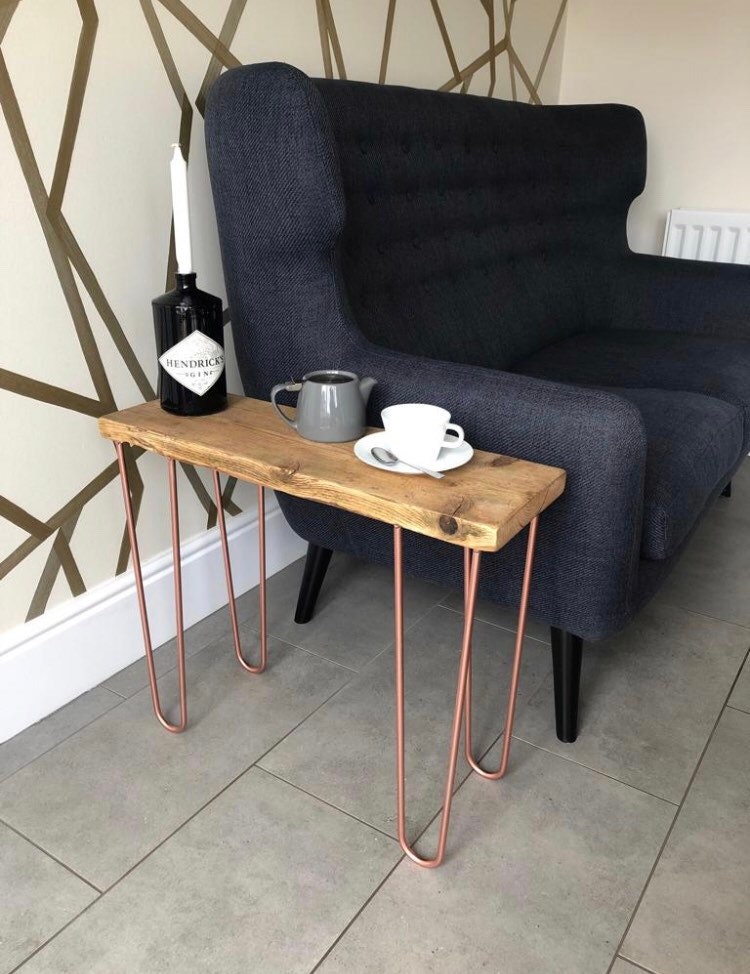 When you are short on space, it can help to invest in a thin side table instead. 
This smart and professional little choice of side table is going to look great and it should go a long way to helping add a fine piece of finished detail into any room or hall that you use it in.
Great for everything from having next to your sofa to placing in the hallway for a lamp to sit on, this is the kind of table that you should be definitely looking at when you just want something a bit more stylish and suited to what you would normally be going for.
#4 Spirally Stylish
Of course, you might also want to go for something that is a bit more modern and abstract. If that is the case, take a look at this small side table. 
This is a cool and rare little design; the kind that should make an immediate impression and leave you with a nice, well-finished looking design.
A big reason why many like this style are the fact that it can be used to blend into just about any part of the home that you feel needs an injection of personality.
#5 Simple & Stylish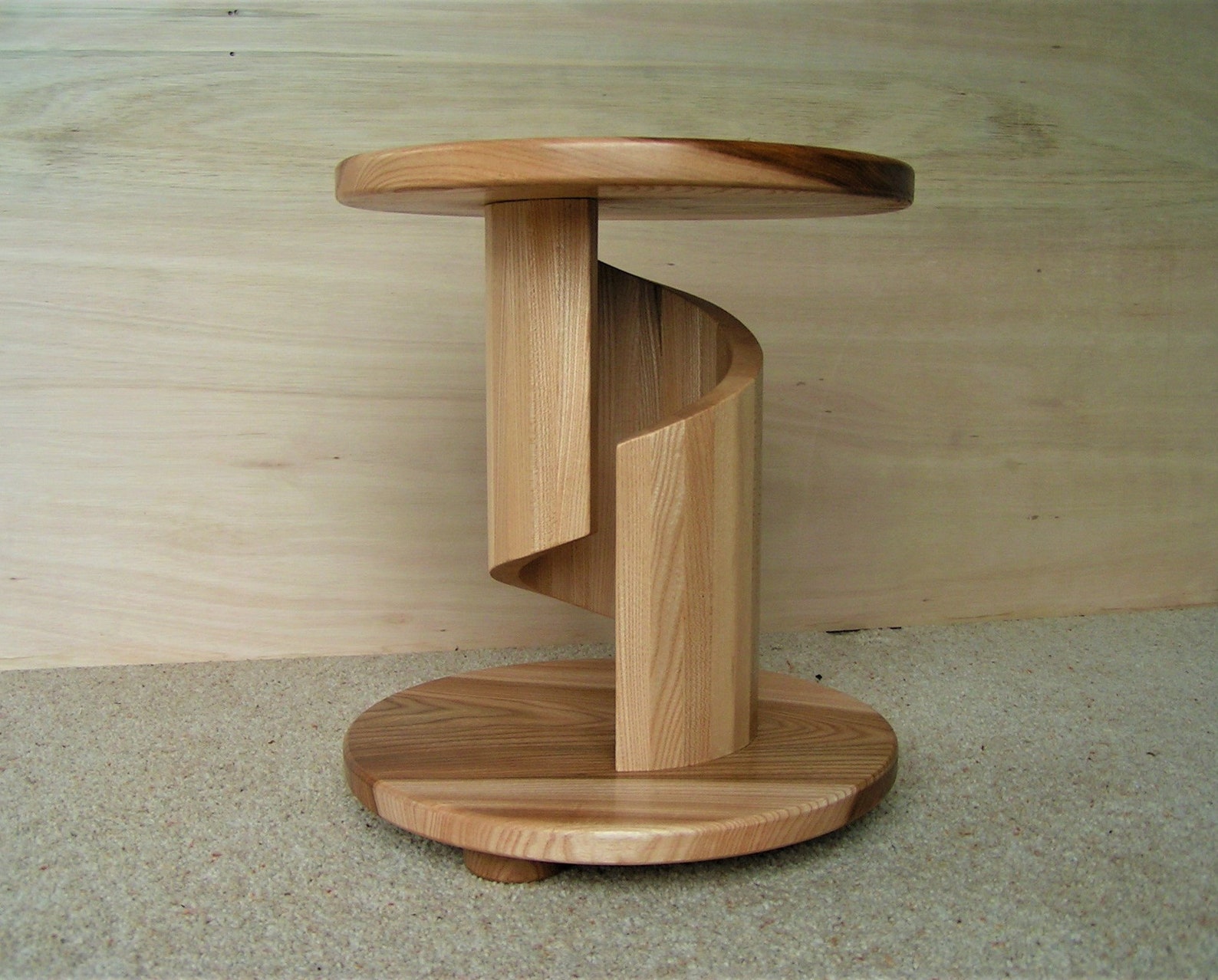 If you prefer a more easy-going style of side table, though, why not take a look at this smart but stylish little option?
It's a good choice for a lot of people, and it will make sure that you can get the help that you need to make a difference to your room.
 It's a nice looking little design, the kind that can make a big improvement to the room thanks to the fact it can fit in with so many styles.
 From the study to the living room through to the hall, this looks good in any and every purpose!
#6 Rustic and Reliable
One thing that always makes sense when you buy a new side table is making sure that it can fit in with the overall aesthetic of the room. 
That is why this rustic and shabby little side table is a good choice. 
It's got a really classic, handmade style to it; the kind of style that can really make the room look a bit more DIY.
If you want to have more equipment at home that looks good and fits in with that homemade look and feel, be sure to try this table out: it might just be what you are looking for.